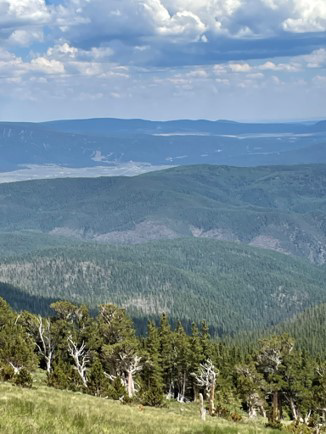 January 9th, 2023, Santa Fe, NM – Nearly $2 million in outdoor infrastructure funding for 19 projects statewide was publicly declared today by the Outdoor Recreation Division (ORD) of the New Mexico Economic Development Department (EDD). This is the third round of Outdoor Recreation Trails+ grant awards announced by EDD Cabinet Secretary Alicia J. Keyes for 2022.
The Outdoor Recreation Trails+ grant seeks to enhance economic development, prosperity, and wellness for New Mexicans through projects including outdoor classrooms, river walks, and trail accessibility. Round one of awards was announced in June, round two in September. The third round of 19 awards totaling $1,809,946 million brings the 2022 total in Trails+ funding to $6,559,352 million for 54 projects.
Gov. Michelle Lujan Grisham created both ORD and the Trails+ grant in 2019 in order to increase outdoor jobs and access throughout New Mexico. The outdoor recreation industry is a priority for EDD as a key target sector to diversify the state's economy. According to the Bureau of Economic Analysis, New Mexico now ranks fifth nationwide in outdoor recreation employment growth. In 2021, outdoor recreation contributed $2.3 billion to the state's GDP and employed 28,475 New Mexicans.
"The thriving outdoor recreation economy supports communities, especially in rural areas statewide, with job creation, increased access and a higher quality of life," Economic Development Cabinet Secretary Alicia J. Keyes said. "Outdoor recreation businesses rely on the projects supported by this grant. I want to thank lawmakers for their continued support of outdoor recreation funding."
The projects awarded this round will create over 200 jobs in 10 counties: Bernalillo, Lincoln, Mora, Otero, Rio Arriba, Santa Fe, San Juan, San Miguel, Sierra, and Taos. Nearly 70% of the Trails+ funding will benefit Tribal or rural communities. New jobs supported through the grant will include at least 82 full time, 21 part time, 14 seasonal, 40 contractual, and 46 youth positions. Overall, 2022 Trails+ funding will generate over 500 new employment opportunities.
Taos Pueblo is the only Tier II ($100-500k funded) project awarded in round three. Taos Pueblo will receive funds to clear access to Tribal trails blocked by downed trees from a wind event in December 2021 and design and engineer a 4.5 mile non-motorized trail along NM 150 to Arroyo Seco. This trail segment was identified as a high priority in the Enchanted Circle Trails Plan and will be a safe commuting connector for residents of Arroyo Seco, Valdez, Des Montes, El Salto, and Taos Pueblo to the Town of Taos, while also establishing access for cyclists and hikers to the public lands along the Rio Hondo and Taos Ski Valley in the Carson National Forest.