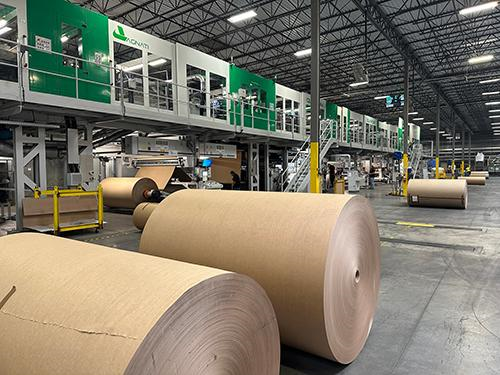 June 5th, 2023 – New Mexico Economic Development Department (EDD) Cabinet Secretary Alicia J. Keyes announced today that Franklin Mountain Packaging, a manufacturer specializing in producing high quality corrugated micro-flute sheets and digital print and die cutting, has signed a lease on a new 150,000-square-foot production center and warehouse facility being constructed in New Mexico's Borderplex.
The new facility is adjacent to Franklin Mountain Packaging's (FMP) current 140,000-square-foot building at 401 Avenida Ascencion, Santa Teresa, N.M. The company expects to add 60 employees in the next three years, bringing its total employee count at its New Mexico facilities to 155. The State of New Mexico is investing $500,000 from its Local Economic Development Act Job Creation Fund (LEDA) to support the expansion.
FMP's expansion announcement is the third this summer for businesses in the Santa Teresa Borderplex region.
"Franklin Mountain Packaging is one of several companies that have recently announced plans to grow jobs and invest capital into New Mexico's Borderplex region," Secretary Keyes said. "These businesses are taking advantage of the logistical and cost advantages of doing business along New Mexico's international border as they invest in more robust and resilient transportation networks and supply chains."
FMP's Quantum Corrugator is one of only two of its kind in North America and one of fourteen in the world. Quantum not only has advanced corrugated sheet-making capabilities but uses 30% less energy and square footage than traditional corrugators. Producing micro-flutes means creating lighter weight sheets and boxes with the same strength, while using less fiber in each corrugated sheet or box. This translates into lower packaging and freight costs for FMP's customers.
FMP also has a high speed, single pass digital printer on site that allows for printing high-quality graphics on corrugated sheets without the need for costly print plates. While having some die-cutting capabilities at its current location, the expansion will allow FMP to expand its die-cutting and finishing capabilities.
The Santa Teresa location provides FMP with easy access to El Paso, Phoenix, the greater Southwest U.S., and Northern Mexico, along I-10, I-25, and I-40, where it can easily service its customers. "Our prime location affords us easy access to rail and ground transportation across the U.S. and Mexico," according to the company's website.