NM completely reformed its tax structure to support manufacturers in 2013, and as a result NM has the LOWEST EFFECTIVE CORPORATE INCOME TAX RATE FOR MANUFACTURING according to Ernst & Young. Some other ways New Mexico is competitive with taxes: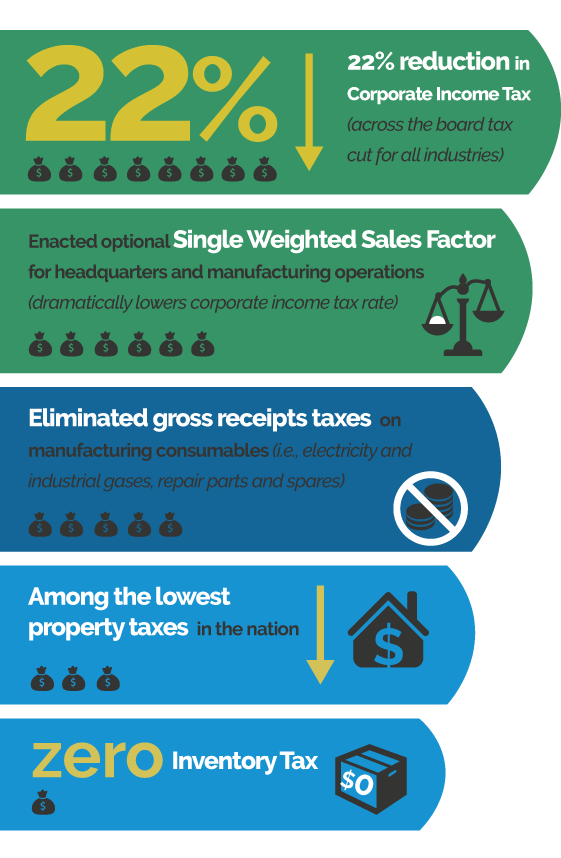 Affordable real estate; abundant land and facility options statewide
Low energy costs; extensive renewable energy potential (solar and wind).
Lottery funded scholarship program
The State of New Mexico and its communities offer employers aggressive incentives to encourage job creation and investment. Our financial incentives are designed to be an ongoing benefit that also rewards companies for future expansions. By designing our incentives this way, it allows both new and existing companies to utilize these programs.
A few of our flagship incentive programs include our Job Training Incentive Program (JTIP), offering economic base companies a cash reimbursement to help train New Mexicans. Another popular program is our Local Economic Development Act (LEDA), a discretionary state incentive that can be used as a cash reimbursement towards land, building, or infrastructure.
For detailed information on New Mexico's incentive programs, head on over to our Incentives page or click here.