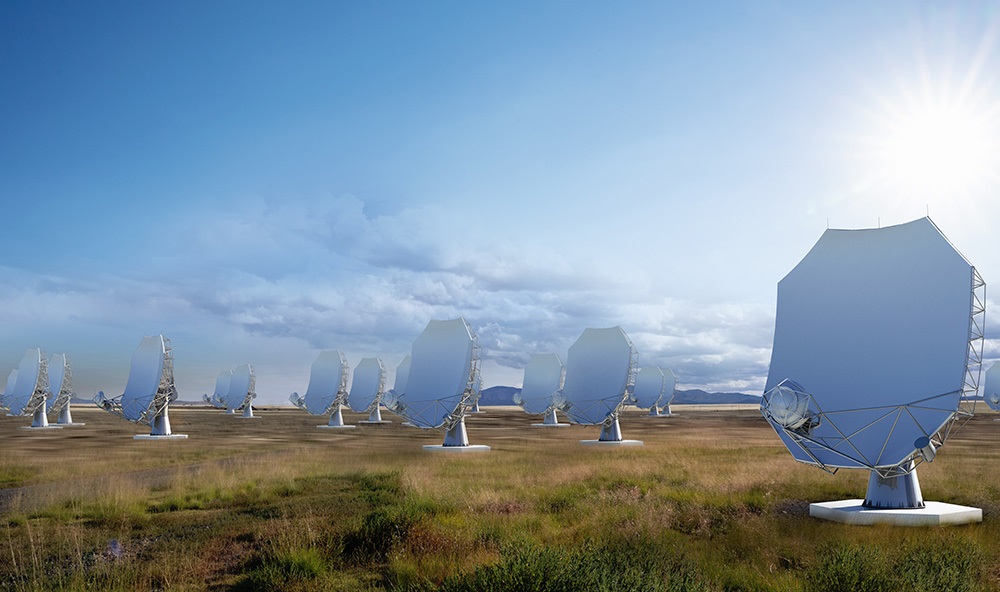 September 28th, 2023 – Gov. Michelle Lujan Grisham, Mayor Tim Keller, and mtex Antenna Technology USA announced today that the antenna and telescope technology company will open a facility in Albuquerque to fulfill obligations to North American customers, including the National Radio Astronomy Observatory (NRAO) and the Smithsonian Astrophysical Observatory in Cambridge, MA.
Wiesbaden-based mtex hosted a delegation from New Mexico to announce the expansion on Sept. 28 at its facility in Leipzig. Those attending included Mark Roper, New Mexico Economic Development Department (EDD) Economic Division Director and City of Albuquerque Economic Development Director Max Gruner, both of whom have been instrumental in recruiting mtex to New Mexico.
The company plans to invest $16 million into its Albuquerque facility at the Sandia Science and Technology Park. The company will create a 70,000 square foot space for their self-developed manufacturing technology for high performance AI panels with a state-of-the-art machining center. They plan to have 62 employees and begin operations in 2027. The project is expected to have an economic impact of $182 million over 10 years.
"New Mexico is the optimal location for the company in terms of workforce, education, livability, business operating costs, and logistical transportation connections to U.S. customers," mtex Antenna Technology CEO Lutz Stenvers said. "We are bringing investments in technology, engineering, and machining to Albuquerque, we feel that it's the place to be right now as we look forward to possible collaborations with University of New Mexico, engineering schools such as New Mexico Tech, and other high-tech companies."
"New Mexico is the place to be for advanced science and engineering, and now these high-paying jobs are coming to New Mexico as mtex and other companies tap into New Mexico's skilled workforce and our long history of scientific innovation," Gov. Lujan Grisham said.
Stenvers also recognized the strong partnerships the company has developed with city and state officials. "I must also underline, thanks to Max Gruner, Mark Roper, and their teams that we feel really welcome as a foreign company coming to Albuquerque. Having a direct personal connection and being guided and supported is for us an important element in our growth story. "
"Together with our partners, we're making investments that are transforming Albuquerque's economy and creating more pathways to success for our families," Mayor Tim Keller said. "We continue to foster a welcoming tech ecosystem so that we can bring good paying, advanced manufacturing jobs like these to our community."
"Albuquerque's existing strengths and infrastructure allow us to prioritize advanced manufacturing, and welcome companies like mtex to a built tech environment," Gruner said. "We offer unparalleled advantages in this industry, including a robust workforce, universities graduating top tech candidates, and proximity to complimentary, supportive institutions."
READ THE FULL NMEDD PRESS RELEASE