Top 7 Reasons New Mexico is Perfect for the Space Industry
By Casey DeRaad | Founder and Director, New Space New Mexico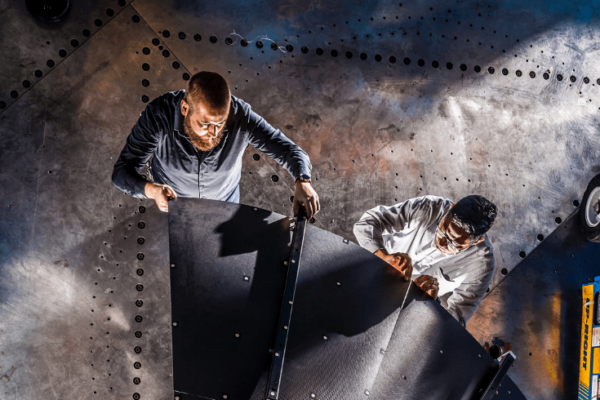 April 10, 2019 — We are on the cusp of a new Space Age. The space industry anticipates more advances in the next decades than we have seen since the launch of Sputnik in 1957.
The space industry is becoming less sci-fi and more mainstream thanks to a new shift toward direct-to-consumer services. Things like video calls, inflight WiFi, navigation, driverless navigation and weather monitoring were initially conceived as space technologies, and are now used every day down on Earth. Additionally, large internet-providing fleets of commercial satellites are being deployed, bringing the space economy into the lives of half the planet on a near constant basis, aiding a multitude of applications, such as monitoring water quality and geological change.
Before this growth in private space investment, space revenues were primarily from government and telecom industries. Since 2009, funders have invested a cumulative $16 billion in space projects, and that investment only continues to grow.
Our state has some of the best conditions to welcome the space industry's explosive growth. Here's why:
1. Labs, labs, labs
New Mexico is home to three Department of Energy laboratories: Air Force Research Laboratory, Sandia National Laboratories and Los Alamos National Laboratory, all supporting space and leading to vast intellectual capital, investment spending and technology partnerships with over $6 billion in annual funding.
Air Force Research Laboratory
$384M budget
851 civilian and military personnel
$276M contracts in NM
Los Alamos National Laboratory
$2.66B budget
9,000 direct employees
650 contractor personnel
Sandia National Laboratories
$3.17B budget
10,940 employees
Contributes $267M to small business in NM

2 . The world's first Spaceport
Spaceport America, the world's first purpose-built commercial spaceport, is located outside Truth or Consequences. Adjacent to the U.S. Army White Sands Missile Range, it has attracted some of the largest companies in the commercial space industry: Virgin Galactic (its anchor tenant), United Launch Alliance, Boeing, UP Aerospace, EnergeticX, Pipeline2Space and EXOS Aerospace all have made it a home.
The Spaceport is over 18,000 acres, with a 12,500-foot runway. It's located inside 6,000 square miles of restricted airspace that minimizes public exposure and protects proprietary technology. The only other place with unlimited restricted airspace is above the White House. The complex has resident level III security officers, paramedic first responders and a 24/7 IT team.
3. Direct tech transfer
The Air Force Research Lab's Technology Engagement Office facilitates the transfer of AFRL technology for defense and non-defense commercial applications. Sandia Labs and Los Alamos National Labs also engage directly in tech transfer to local companies. These labs work to actively cultivate New Mexico's capacity for innovation, pursue the successful commercialization of laboratory technologies and support STEM education opportunities for youth. AFRL, Sandia and LANL all have a presence at the Lobo Rainforest building in the heart of Innovate ABQ.
4. A huge STEM workforce
Livability ranked Albuquerque among the 10 best cities for STEM workers. Albuquerque has the most STEM jobs of any other city on the list. Our city's 22,000 STEM jobs (21,000 of which are with Air Force Research Laboratory, Los Alamos National Laboratory and Sandia National Laboratories) offer a median salary of $81,617.
New Mexico's workforce is also incredibly diverse. New Mexico State University, New Mexico Tech and the University of New Mexico grant over 1,000 STEM degrees each year and have over a 40 percent graduation rate of people of color. This diversity can support inclusively growing the New Mexico space industry to be a more innovative and robust economy.
5. Rapidly growing private sector
To date, there are more than 60 companies working in space technology here in New Mexico. They work in diverse areas such as satellite components, design, manufacturing, space launch and data analytics. Many have grown through government contracts, but new companies are starting every day in the commercial space realm, such as Descartes Labs and Solstar.
6. Our Air Force hub
New Mexico also has three key Air Force organizations working in space tech that operate at Kirtland Air Force Base: Space Rapid Capabilities Office, Air Force Research Laboratory and the Space and Missiles Center. Together they receive over $900 million in annual funding and employ over 1,600 employees. These Air Force organizations are at the center of the national space discussions to embrace faster paced developments and uses of commercial technology.
7. Affordable cost of living and doing business
A median priced home in New Mexico costs $187,100 and the cost of living in Albuquerque (which is home to 25 percent of our state's population) is five percent below the national average.
New Mexico also has a friendly business environment with the lowest effective corporate income tax rate for manufacturing. Among the lowest property taxes in the nation, and no inventory tax, New Mexico also offers several programs that benefit businesses such as the Job Training Incentive Program, which offers a cash reimbursement to help train New Mexican employees, and the Local Economic Development Act (LEDA), a discretionary state incentive that can be used as a cash reimbursement towards land, building or infrastructure.
The global space economy is estimated to grow to three trillion dollars over the next 20 years. In New Mexico we're poised to take advantage of this momentum. With over 200 members from industry, private and public offices ready to engage, the New Space New Mexico council is making a coordinated effort to bring space tech entrepreneurs, technologies and opportunities together. The new space age has started, and we want the headquarters to be right here at home.
Learn more about New Space New Mexico here.