By Teya Vitu, Santa Fe New Mexican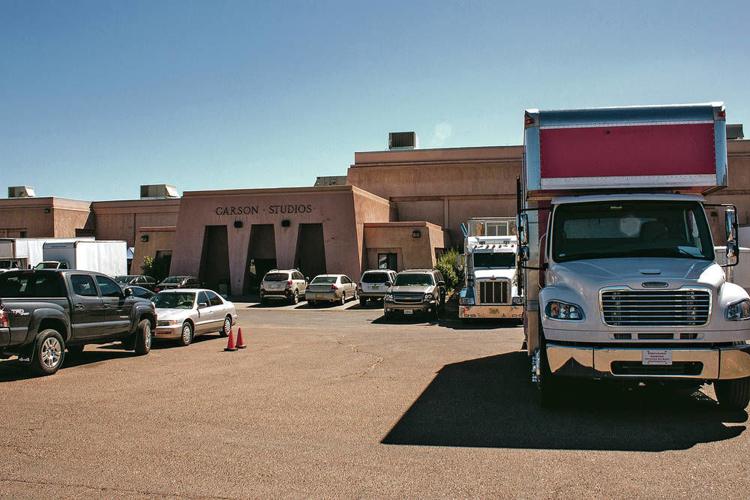 May 22, 2020 – A film studio development project that would expand production at the city-owned midtown campus is rapidly gaining momentum.
As many as six new soundstages could be added to the three now housed on the property at Garson Studios.
Hal Katersky, chairman of Pacifica Ventures, a partner in the redevelopment of the former college campus, said the company hopes to get the first new soundstage operating as soon as possible. "Once we get the go-ahead, we can be up and running in a year," he said.
Santa Fe Mayor Alan Webber is interested in the campus' immediate revenue potential, given a looming city budget shortfall for the next fiscal year and remaining debt of $23.7 million on the purchase of the property. The city pays $1.6 million a year in debt service on the midtown campus and another $2.5 million to $3 million in annual maintenance costs.
"We are looking at revenue opportunities every step of the way," Webber said. "We would like to see some action financially with Garson Studios."
The COVID-19 pandemic, which has slowed the city's planning of what is expected to be a yearslong redevelopment of the 64-acre midtown campus, also has created a logjam in film and TV production worldwide, which Katersky and others at Pacifica believe could benefit Santa Fe.
"There is not a soundstage in Europe to be had," Katersky said. "Several in America are tied up for years."
"Santa Fe already accounts for a third of productions in New Mexico," said Matt Rauchberg, Pacifica's senior vice president of business development. "Our intention is to grow that."
Pacifica was one of about a dozen members of the midtown campus redevelopment team, headed by Dallas-based KDC Real Estate Development & Investments/Cienda Partners, that took part in a virtual Meet the Developer session Tuesday. It was the third such event intended to introduce the public to plans for overhauling the property.
Before Pacifica can begin building on the site, the city and KDC/Cienda must enter into a disposition and development agreement.
Pacifica built Albuquerque Studios with eight soundstages in 2006 and operated the business before selling it to Netflix in 2018.
More than 150 TV and film productions passed through before the sale to Netflix, including Breaking Bad and The Avengers. Rauchberg said 45 percent of the crews for Albuquerque Studios' first productions were New Mexico workers, a number that grew to 95 percent by 2012.
The midtown redevelopment team is building a job pipeline to replicate this in Santa Fe.
Santa Fe Community College and the University of New Mexico are also partners in the group, which calls itself Team Midtown, and intend to provide film-related education and training opportunities on the campus to help build a workforce for the soundstages.
"The need for production companies is to have quality local people," Pacifica Ventures CEO Dana Arnold said. "We developed one of the best crews in the country in Albuquerque. That same thing can happen in Santa Fe."
Santa Fe Community College now offers numerous courses for technical film industry jobs. It plans to add courses as needed to fill positions offered by Pacifica, college President Becky Rowley said.
"This would allow our students to do some of their course work at the studios," Rowley said. "We're ready to go. We can produce entry-level employees in all the technical fields."
UNM is proposing to establish an interdisciplinary incubator at the midtown campus that initially will focus on film and design, said Tim Castillo, UNM's special adviser to the provost for Santa Fe initiatives.
At the proposed incubator, called The Aquifer: Center for Art, Design, Culture and Innovation, UNM would offer four-year programs in film specialties, including acting, writing and directing. "Students are looking for that real-world experience," Castillo said.
James Feild, senior vice president of Cienda Partners and Team Midtown's project leader, said the film studio project is maturing at a far faster rate than the overall master planning process.
"Before, we had sound studios in the plan for the whole campus," Field said. "Now we will carve it out and add it to the master plan. You can do it as a stand-alone first phase. The investors involved in production facilities are very bullish."
Feild, who is based in Dallas, is visiting Santa Fe to get a better sense of how to proceed with developing the sound studios and determine which existing buildings on the campus KDC/Cienda wants to keep and which to demolish — eliminating some maintenance costs.
"We have always looked at our job as master developer to make sure we align with the city," Feild said. "One is to stop the bleeding."