Release via Grant County Beat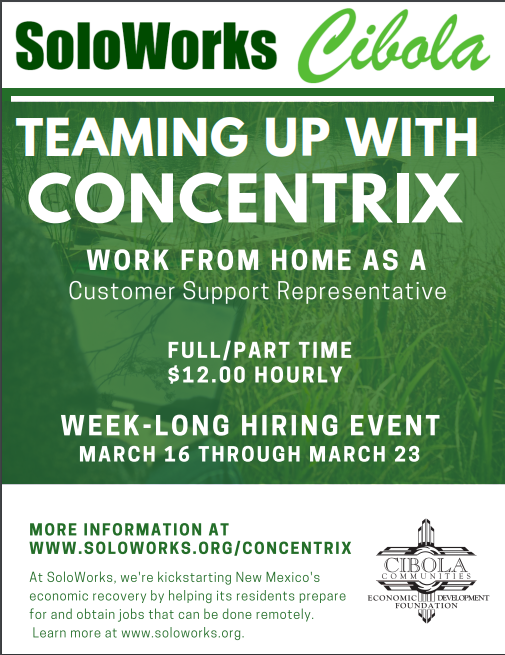 March 20, 2020 – SoloWorks Cibola announced that it is working with Concentrix to provide work-at-home customer service positions across the state of New Mexico. The week-long event began March 16, and SoloWorks will be facilitating applications through at least March 23.
"Especially in light of the public health crisis, we want to provide an opportunity to New Mexicans, particularly those in the service sector, to keep working," SoloWorks Director Shelly Fausett said. The positions pay $12.00 hourly and are seasonal through sometime in April, but people who want to continue working will have opportunity to transition to another client.
"We're speed-processing applications with Concentrix and moving applicants through the process as quickly as possible. We are happy to help manage and process applications for anybody who has adequate internet and equipment and can provide a quiet environment," Fausett said.
Those who are interested in applying for the positions can do so by going to www.soloworks.org/concentrix and clicking 'Start Here' at the bottom of the page. SoloWorks will follow up with further instructions. This step is critical in getting the applications handled quickly.
Eileen Yarborough, Executive Director of Cibola Communities Economic Development Foundation, which houses the SoloWorks program, said, "We believe in the value of remote work and that we can provide economic relief to New Mexicans in this crisis by connecting them to employment opportunities."