Seafood Spot Plans Uptown Location
By Ron Davis  – Reporter, Albuquerque Business First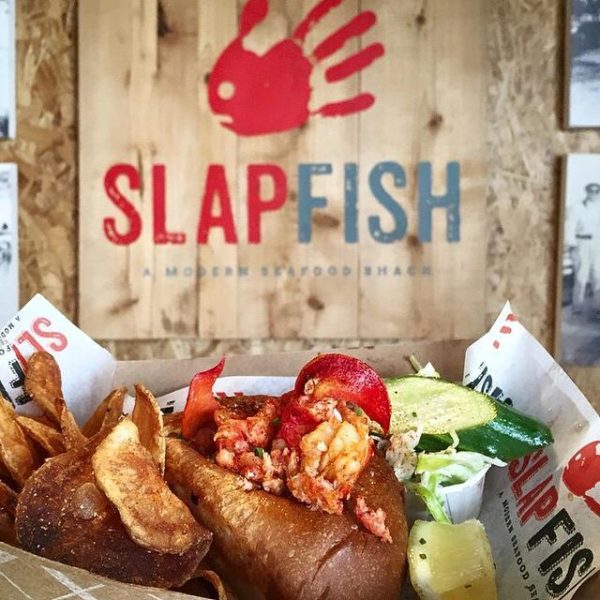 February 15th, 2019 – After a year and a half in Albuquerque, California-based Slapfish is opening a second location in the Duke City at Winrock Town Center.
Slapfish franchise owners John and Bridget Wilson expect the new location to be open by mid-May.
The Wilsons own the two franchises with their son, Eric, who is operations manager and executive chef for Slapfish's Albuquerque locations. He has more than 16 years of experience in the restaurant business, with stops at Red Robin, Elephant Bar and Flying Star.
Bridget Wilson said the three have signed a five-year lease at its Winrock location at 2100 Louisiana Blvd. NE with options to renew. City permits show Slapfish will occupy just over 3,000 square feet. The group was represented by Todd Strickland from NAI Maestas & Ward, Bridget Wilson said.
"We'll be there for a good, long while," she said.
Slapfish's first Albuquerque location opened in October 2017 at 6400 Holly Ave. in a 2,000-foot-space. The Wilsons told Business First the plan was to eventually have two Slapfish locations in Albuquerque.
The restaurant's founder, Andrew Gruel, told Forbes that he started his business out of a food truck, having sights on making Slapfish the "Chipotle of seafood." Slapfish's systemwide sales were $8 million as of October 2016.
Slapfish joins a growing number of restaurants either moving to or expanding in Albuquerque. Business First reported more than 40 restaurant licenses have been issued from October to January, according to city records obtained through a public records request. View the slideshow to see which restaurants are sprouting up in the Duke City.