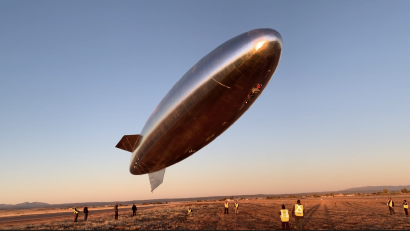 SANTA FE, N.M., August 18th – Sceye, a company founded by global humanitarian Mikkel Vestergaard, has chosen New Mexico as its U.S. base of stratospheric flights for earth observation and communication, Economic Development Department Cabinet Secretary Alicia J. Keyes announced today.
With a staff of 30, Sceye has had a footprint in New Mexico for three years, conducting a large part of the research and development of its innovative technology at airports in both Roswell and Moriarty. The company has now decided to locate its manufacturing operation in New Mexico as well, at a location still being finalized. Sceye is deploying a stratospheric platform that enjoys a field of vision broad enough to transmit over thousands of square kilometers, but close enough in proximity to eliminate the need for ground infrastructure, thereby giving all communities equal access to the internet.
Sceye is negotiating a partnership deal that can provide better broadband access to the Navajo Nation and all underserved areas in New Mexico. Vestergaard will testify on broadband access on Tuesday, August 18, before the Interim Committee of the New Mexico Legislature on Science and Technology & Telecommunications
"The COVID emergency has amplified the need for universal access to the advantage of a networked world," Vestergaard said. "There is a massive gap between the connected and unconnected."
In January 2019, Vestergaard, former CEO of global public health companies Vestergaard and LifeStraw, established new leadership of his other businesses to exclusively focus on Sceye's expansion.
Sceye has invested more than $50 million in developing and maturing the stratospheric airship and building infrastructure in New Mexico. The latest expansion will create 140 high-paying manufacturing and engineering jobs. To assist with expansion, the New Mexico Economic Development Department has pledged up to $5 million from its Local Economic Development Act (LEDA) fund, a grant program funded by the Legislature to boost job creation in the state.
"Sceye's commitment to our state validates the hard work we've done to restore and rebuild New Mexico's business-friendly reputation. This is the place to be if you're interested in breaking ground and new frontiers and in meaningful career development," Gov. Michelle Lujan Grisham said. "My administration will continue doing everything we can to attract and retain the innovative 21st century businesses that will strengthen our economy and workforce."
Sceye credits economic incentives as one of the factors in making the State of New Mexico a desirable location for doing business
"Our partnership with the Economic Development Department has helped us choose New Mexico, not just for research and development, but for a scaled production of our business in the future," Vestergaard said.
"New Mexico has been home to many innovative companies and Sceye's approach to broadband and methane monitoring is game changing," Cabinet Secretary Keyes said. "It's these types of disruptive companies that will drive economic development in the state for years to come."