ABQ Startup Brings Blazing Fast Internet to Local College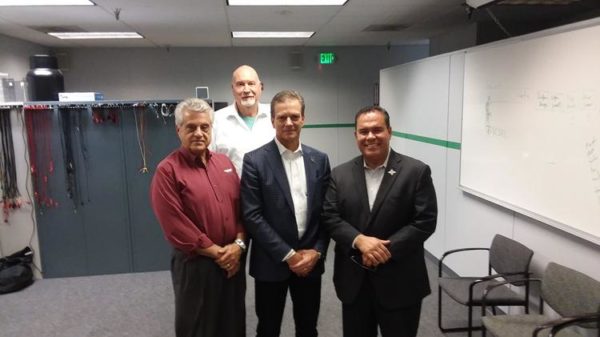 November 28th, 2018 — Students at Central New Mexico Community College next semester might notice the campus internet is faster — much faster.
Albuquerque startup OptiPulse will build a 10 gigabyte per second wireless network for the school, according to a news release. The network will provide upload and download speeds of around one gigabyte per second, or about 100 times faster than a regular wireless network.
"The impact for education is huge," said Feng Hou, chief information officer at CNM, in a prepared statement. "The increased speed will be an enabler for all kinds of new immersive and interactive learning that incorporate emerging technologies."
OptiPulse was founded by former Sandia National Laboratories scientist John Joseph, who graduated from CNM in 1980 and became a laser technology inventor.
OptiPulse's wireless internet technology relies on an array of lasers, like the one pictured with this story, instead of more traditional fiber optic cables. The lasers can speed data delivery and cut infrastructure costs.
The CNM main campus installation is a pilot project, but could expand to the rest of the campuses in the future, the release said. The pilot coverage area will extend from the JS classroom building on main campus at Buena Vista and Coal to the student resource center building about 500 feet south.
"CNM has been an outstanding partner to help us get started," Joseph said in a statement to Business First. "We are planning to educate a workforce as soon as we finish our development to production stage."
CNM Ingenuity, the college's 501(c)3 enterprise arm, also made a small equity investment in the technology. Kyle Lee, CEO of CNM Ingenuity, said investing now could lead to a training pipeline for future CNM students.
"If their product indeed comes to light," Lee said in a statement, "we would create a training program as a part of the partnership where CNM would provide the technicians who would install the OptiPulse devices."
For the inventor, Joseph, the long-term goal is to disrupt how internet is delivered, vying for fast and reliable access for everyone, more akin to traditional utilities.
"We believe that the network should ultimately function like a utility," Joseph said. "We're not in this to make a ton of money. We're in this to change the current paradigm."
OptiPulse wireless technology is being tested at CNM and will fully deploy there next month, Joseph said. The technology could benefit New Mexico's rural population.
"Our devices will be able to span long distances, which we have plenty of in New Mexico, cheaper than fiber and faster than microwave while using less energy," Joseph said.
OptiPulse has raised nearly $3 million in funding from local investors so far, including local telecom investors Sacred Wind Communications and Plateau, as well as funds from UNM STC and CNM Ingenuity.