NM's New Soccer Team Unveils Sponsor, Jerseys
By Ron Davis  – Reporter, Albuquerque Business First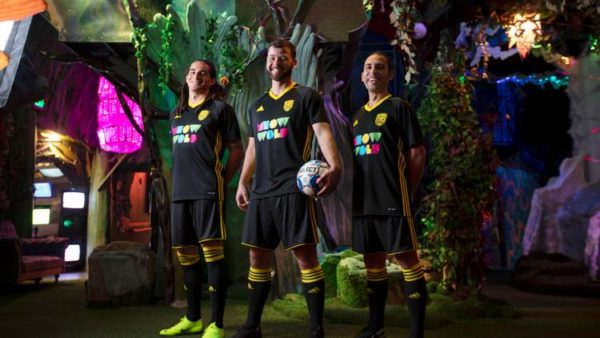 February 7th, 2019 – For Peter Trevisani, partnering with Meow Wolf made too much sense.
Trevisani, the owner of the newly formed New Mexico United soccer team — part of the United Soccer League — has said the goal of his team, beyond winning titles and cups, is to connect the state. A partnership with one of New Mexico's most recognizable businesses is a start.
As the United take the field next month for their inaugural game at Isotopes Park, they will do so wearing black jerseys with the name "Meow Wolf" plastered across the middle. The club will unveil its jerseys Thursday.
Meow Wolf is an interactive art collective headquartered in Santa Fe and a popular tourist destination in the Land of Enchantment.
"If there's something that can inspire somebody more through brand awareness, I want to know who it is," he said. "When you feel the power of Meow Wolf and the power of soccer in New Mexico United … you're going to create this euphoria around it."
Beyond blazing Meow Wolf's name across players' chests, the United and Meow Wolf will host soccer and art hybrid clinics, which will feature United players and Meow Wolf artists teaching kids about both soccer and art and how the two are intertwined, Trevisani said. The club has designated Aug. 3 as "Meow Wolf Night" at the stadium.
Before the season kicks off March 9, the United is moving to a new office on Carlisle and Central Avenue, which will also be its team retail shop. According to an article from Forbes, USL teams pumped more than $100 million into stadium construction from April 2015 to October 2016.
"Sports and arts are quite aligned in my mind," said Meow Wolf CEO Vince Kadlubek in a statement. "Both depend on the ability to envision and then act to create that vision … Both are able to bring fun, unity and inspiration to the community. New Mexico is world-renowned for arts and now is the time we go big in sports too, and New Mexico United is just the organization to do it."
The United also partnered with New York-based finance firm KraneShares for its away jerseys, United officials said. Trevisani said the club chose to partner with the firm as it has reach in several markets where the United plays its road games.
Trevisani declined to disclose the exact value of the partnerships, but added that it's a "six-figure relationship" and a soccer club's jersey is its most valuable financial asset besides television revenue.
"When you look at Meow Wolf and what they've created from an imagination point of view, the fact that they've let people dream in a way they hadn't thought about dreaming before, and the ability to have a commercial success with that and employ over 200 artists, we wanted to be a partner with them," Trevisani said.