The New Oval Dogs Coffee Shop is Open for Business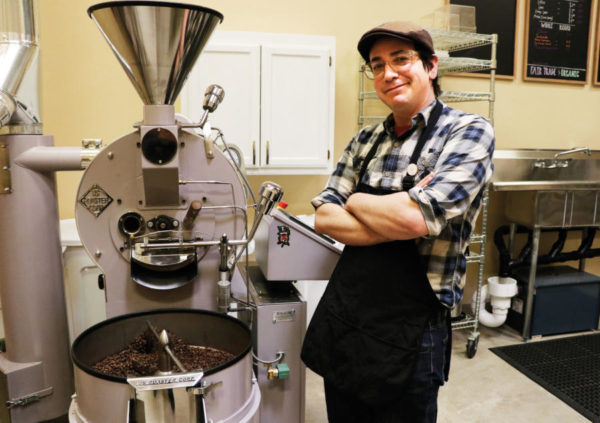 March 1st, 2019 – 
A first date at a coffee shop has blossomed into one of Rio Rancho's newest businesses.
Oval Dogs Coffee, at 661 Quantum Road, is the brainchild of husband-wife team Daniel and Beth Sanchez.
"We were actually attending a Bible study in a coffee shop when me and my soon-to-be-wife met," Daniel Sanchez said.
Always a fan of the ambiance and aesthetic that many coffee shops have, Daniel said he and his wife started doing research on opening their own spot.
"While we were thinking about this idea, we tried some green Panamanian coffee, and that coffee was the best coffee that we ever had," Sanchez said. "I'm pretty sure we burnt it, and it was really uneven, but because it was like fresh specialty coffee, it was so much better than any other coffee-shop coffee we've ever had."
Sanchez said he and his wife began roasting coffee out their house nine years ago after that chance tasting, and have been selling their roast at local farmers markets for a little over a year.
"It was about three years ago that we decided it was time to look into opening our own shop," he said.
Sanchez said the Panamanian roast that inspired Oval Dogs is still out of reach, but he does have a few other unique beans imported from around the globe to offer.
"We have Guatemalan beans; we have a great relationship with Ethiopia, Rwanda, and Mexico," he said. "The guy we buy our Guatemalan beans from is down there right now, so he has been taking pictures and hanging out with the farmers."
Sanchez said he and his wife have made a significant investment in opening Oval Dogs in a former office that is a little over 400 square feet.
The bean roaster, he said, cost around $25,000, and the coffee shop's pressurized cappuccino machine was nearly $4,000 brand new.
"Our whole business is based on the sale of our beans," he said. "And now that we have a food-safe environment, we can have our products sold in other places."
As for the name of the business, Sanchez said it started out as a joke that stuck with him until he actually opened a business.
"We had a friend ask on Facebook if anyone knew of a good place to work, and I trolled him and made up a company name on the fly: Oval Dogs, I replied," Sanchez said. "He came back asking where this business was because he said it sounded cool. So it stuck with me all this time."
Oval Dogs, just southwest of the intersection of Northern Boulevard and Quantum, will celebrate its grand opening Tuesday at 12:15 p.m. The entrance is on the back side of the building.