New Mexico Partnership Digs Into Border Issues at Dell 'PolicyHack'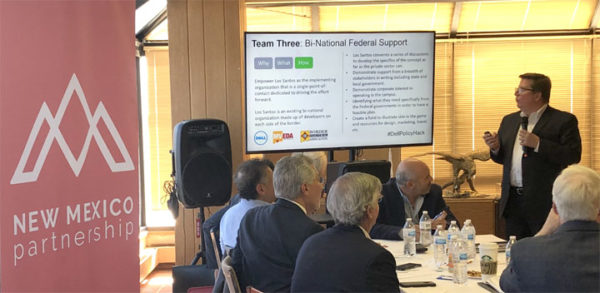 Santa Teresa, New Mexico, April 3, 2019 — The New Mexico Partnership participated in the Dell Cross Border Campus PolicyHack on Tuesday that brought together Dell executives, government officials, private industry, and economic developers from Mexico and New Mexico for the first Dell PolicyHack in New Mexico.
Dell holds PolicyHacks in cities across the globe and each focuses on a major issue, such as entrepreneurship, STEM education or social responsibility.
"This was a rare opportunity to talk about substantive issues not just with executives from Dell, but also with colleagues who have on-the-ground experience on both sides of the border," said Tim Nitti, CEO of the New Mexico Partnership.
Cris Turner Vice President and Head of Office, Americas Government Affairs, for Dell said the Las Cruces area's bi-national relationship presented an interesting opportunity.
"We can move the needle more if we focus on smaller cities. Instead of just Guadalajara or Bangalore, we decided to see how we could contribute in New Mexico," Turner said. "The border was a natural fit and we can commit resources to help in a community like this."
Five teams, which included representatives from the Mesilla Valley Economic Development Alliance and the New Mexico Partnership, as well as government officials and private business from Mexico, Santa Teresa and Southern New Mexico, focused on solving issues related to the border such as industry clusters, how to gain federal support, and how local government and private industry can support a cross-border campus.
The teams presented their findings to a slate of judges that included representatives from MVEDA and Dell.
"We worked on finding ways federal governments can support a bi-national campus," said Tim Nitti, the CEO of the New Mexico Partnership. "We focused on the why, the what and the how of a bi-national campus. Los Santos exists as a master-planned community, but what do we do now to get federal buy-in? What has to be asked for, and what kind of empowerment, is required?"
Other teams looked at ways to integrate higher education, opportunities and weaknesses on the border, and ways to create a campus of the mind on the border and clusters. The judges picked two teams' proposals as winners, but also decided to integrate the ideas from each team into future projects on the border in a long-term effort.
About Us: The New Mexico Partnership is designated by the State to be your single-point-of-contact for locating and expanding your business in New Mexico. We offer a coordinated approach and a formal network of economic developers to simplify the site selection process by providing expertise on talent, critical infrastructure, educational and R&D institutions, real estate and facilities, incentives, and all the other factors that go into a business location decision.
###