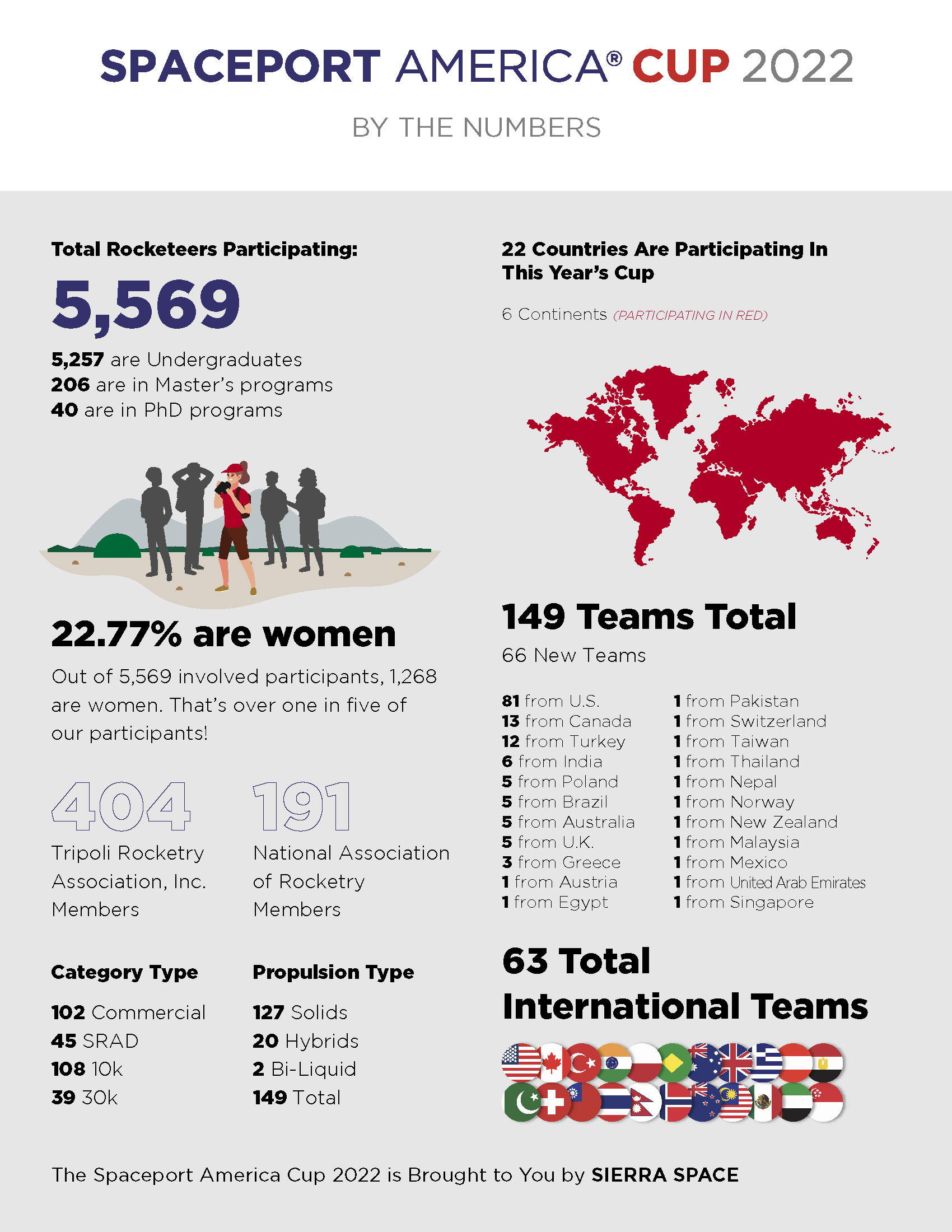 On behalf of the State of New Mexico and the New Mexico Partnership, we would like to invite relevant members of the media to participate in a familiarization tour of Spaceport America in conjunction with the Spaceport America Cup, June 21 – 22, 2022. This exclusive media opportunity is hosted by the State of New Mexico and the New Mexico Partnership. It will provide an opportunity for a member of your media team to learn more about the different Spaceport America missions and The Spaceport America Cup, the world's largest intercollegiate rocket engineering conference and competition.
New Mexico has a history of fostering a cutting-edge aerospace and space ecosystem. In fact, New Mexico was the third state to launch humans into space. And, with more than 100 space companies located in New Mexico, many will be in attendance at the Spaceport America Cup, interview opportunities with industry leaders will be abundant during this familiarization tour. The Spaceport America tour will offer Q&A opportunities with organizations such as Sierra Space, SpinLaunch, Haps Global and more.
Meals, transportation (to/from Spaceport America) and limited rooms will be provided.
Agenda:
Day 1 – Tuesday, June 21, 2022
Industry overview from State of New Mexico Cabinet Secretary Alicia J. Keyes, Economic Development Department
Spaceport America Cup and Aerospace interview opportunities
Optional tour of the Borderplex
Day 2 – Wednesday, June 22, 2022
Site tour of Spaceport America
Spaceport America Cup
Day 3 – Thursday, June 23, 2022
Spaceport America Cup (optional)
Airport transfers to El Paso
Please confirm your attendance to participate in this familiarization tour with Andie Mercer info@garritypr.com and include your name, title and media outlet. Please let us know if you have any questions! We look forward to hearing back from you.
In addition to exclusive access to Spaceport America, we will also provide an optional tour of New Mexico's Borderplex region. This area has become a hub for large-scale international manufacturers and accounts for more than 50% of New Mexico's worldwide exports. Links to recent press releases covering the border region can be found below:
Story Ideas
The Spaceport America Cup pioneers women in science
22 countries compete at The Spaceport America Cup
Spaceport America Cup winners
First-year Spaceport America Cup competitors
Spaceport America Cup impacts on global scientific research
Future industry leaders
What it takes to make a rocket, safe to launch
How student crews get ready to launch a rocket
History of aerospace in New Mexico
Aerospace developments in New Mexico
Sponsor industry milestones
Spaceport America – what is it?
Spaceport America developments
The Spaceport America Cup is the world's largest intercollegiate rocket engineering competition
Why Sierra Space, Blue Origin, Virgin Galactic, Raytheon, Honeywell and other big names in aerospace sponsor The Spaceport America Cup
An inside look at 126 rocket launches in 3.5 days
About The Spaceport America Cup
The 2022 Spaceport America Cup will bring nearly 1,500 students from around the world, to collaborate and compete in a rocket building competition, at a world-class spaceport facility. Student teams will represent more than 100 institutions and nearly two dozen countries. Interviews with students, judges, sponsors and other industry leaders will be available to media during the opening day of the competition.
About Spaceport America
Included in this tour is a look at Spaceport America. Spaceport America is the first purpose-built commercial spaceport in the world. The FAA-licensed launch complex, situated on 18,000 acres adjacent to the U.S. Army White Sands Missile Range in southern New Mexico, has a rocket friendly environment of 6,000 square miles of restricted airspace, low population density, a 12,000-foot by 200-foot runway, vertical launch complexes, and about 340 days of sunshine and low humidity.