New Mexico Company Ideum Helps Museums Go Touchless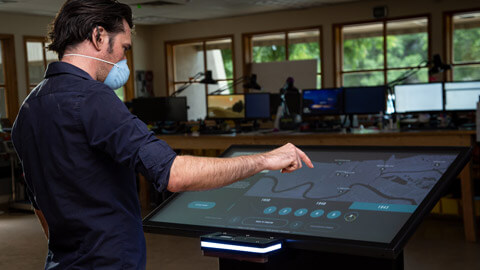 July 14, 2020
New Mexico technology company Ideum is creating a zero-touch kiosk to give museums and other visitor attractions hope in the midst of the Coronavirus Pandemic. The Ideum team is working with the National Gallery of Art in Washington, DC to create a unique touchless kiosk helping visitors to engage the "nation's collection of fine art" with a simple wave of the hand.
"We are thrilled to collaborate with the National Gallery of Art, and to have the opportunity to work with new technology that can positively impact the museums and other public spaces that have been hit so hard by the epidemic," said Ideum Founder Jim Spadaccini. "Our deep experience with a variety of technologies over the years, including touchless technologies, makes us uniquely qualified to take on this challenge."
This new kiosk concept allows visitors to safely engage the art without touching the screen or any other physical elements. The unique digital experience will be a proof-of-concept for an open-source initiative designed to benefit the museums and similar attractions during the coronavirus pandemic. Ideum announced the project today on their website, found here.
This announcement comes as yet another contribution from New Mexico's ecosystem of technology companies. The state is home to a diverse range of organizations, including start-ups, large-scale technology operators like Intel, and research institutions such as Sandia and Los Alamos National Laboratories, all of which have fostered an environment for collaboration and growth. In fact, in 2017, New Mexico was rated in the top 10 for innovation capacity, according to the ITIF's 2017 State New Economy Index.
In addition to a collaborative environment, the state boasts access to world-class talent. There are almost 36,000 employed in science, computer, mathematical, and engineering occupations in the state. The proportion of New Mexico's workforce employed in the science related fields is 1.7 times higher than the national average, and 1.5 times higher in engineering.
"Our outstanding interdisciplinary team of designers, engineers, fabricators, and developers working together here at our New Mexico facilities, have made this possible," Says Jim. "We've had great success operating in New Mexico because of access to in-state talent, low facility costs and advanced facilities for fabrication, electronics and assembly."
For companies that are interested in expanding or relocating to New Mexico, the New Mexico Partnership is here to help. For more information, please visit nmpartnership.com or send us an email at info@nmpartnership.com.