WE ARE LOCATED IN THE US REGION WITH THE
FASTEST GROWTH RATE SINCE THE TURN OF THE CENTURY.
New Mexico has a population of almost 2.2 million people and is strategically located within the region experiencing the fastest rate of population growth in the U.S. during the 21st century. From 2000 through today the total population of the U.S. has grown by 14.8%; less than 1% annually. In contrast, the Mountain Division, where New Mexico is located, has grown by 31.3%; approximately 2% annually. This growth has signaled to companies around the world that locating in this region is key to positioning themselves in the path of growth.
DURING THE LAST FIVE YEARS
351,209 PEOPLE HAVE CHOSEN NEW MEXICO
Many of these people are coming from nearby western states such as California, Texas, and Arizona. We also have a large portion of people relocating from much farther with Florida, Virginia, Washington, and Illinois being among the top ten states of origin. If attracting people from opposite sides of the nation wasn't far enough, we also continue to draw people in internationally with over 50,000 people having migrated to New Mexico from outside of the U.S. in the last five years.
Migration from Outside New Mexico
2011 - 2015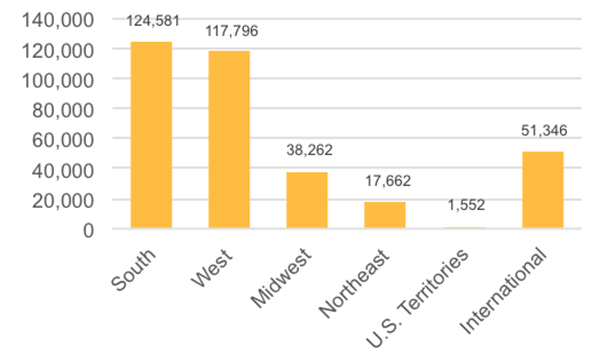 Migration from the Top 10 States
2011 - 2015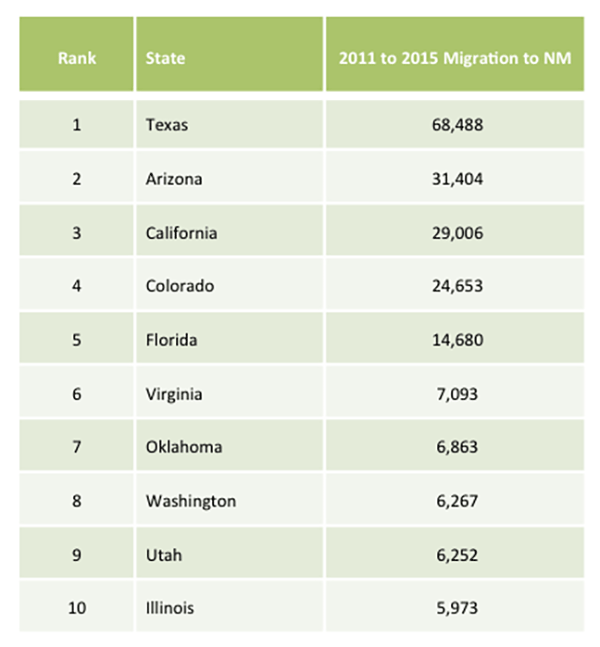 Our presence in the nation's fastest growing geographic region is a strategic advantage to companies that locate to New Mexico. Fundamental demographic trends are leading to the persistent long-term shortage of talent in the U.S., and as the talent pool grows tighter and tighter, companies in New Mexico will be better positioned to satisfy their labor needs than will their competitors that remain in slow growth regions.
Companies are adopting geographic diversification as a strategy for ensuring long-term access to high-quality and skilled talent fundamental to maximizing corporate performance.