Meow Wolf is Coming to Phoenix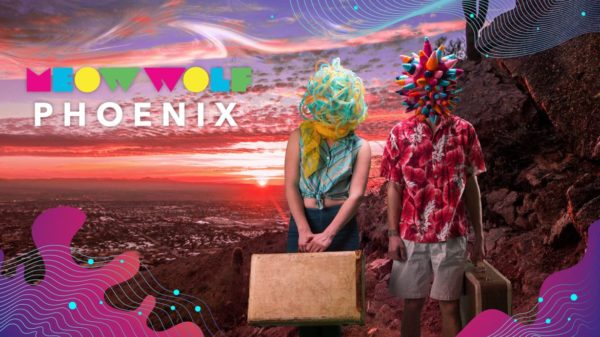 February 25th, 2019 – 
Next time you plan a visit to Meow Wolf, you might want to pack your bags.
The Santa Fe-based art collective announced it's expanding to Phoenix with a 75,000-square-foot exhibit with a 400-room hotel. The hotel's rooms will be designed by local artists and the expansion will include a 10,000-square-foot music and performance venue.
"Guests are always asking about staying overnight inside of our House of Eternal Return project in Santa Fe, so doing an intertwined exhibition and hotel just made sense to us," said Vince Kadlubek, Meow Wolf CEO and co-founder, in a statement. "Our partnership with True North Studio in Phoenix is a perfect opportunity to explore this wild concept. Our intention for this venture is to collaborate with the creative community in greater Phoenix to produce an authentic, local statement of expression which will bring further excitement and creative energy to the Roosevelt Row Arts District. This project is going to be truly monumental on so many levels."
True North Studio is a community, entertainment and real estate development collaborative based in downtown Phoenix, according to a release. Meow Wolf said True North Studio is focused on historic preservation, adaptive reuse and urban infill.
No opening date or cost was announced.
Meow Wolf's Phoenix location will be built at 811-817 N. Third St. in Phoenix. True North bought the property that will house Meow Wolf's project for $2.15 million last month, according to sister publication Phoenix Business Journal.
Kadlubek told the Phoenix Business Journal that Meow Wolf started looking at Phoenix about two years ago.
"A lot of our guests in Santa Fe come from the Phoenix market," said Kadlubek. "It's one of our top three markets, so from a business perspective it makes sense."
After visiting Meow Wolf and experiencing the exhibit, True North Studio Principal Developer Jonathon Vento said he knew he had to find a way to bring it to Phoenix.
"As a 55-year-old guy who has traveled the world, I thought I had seen about everything," he said. "But this shook me to my core. It made me want to be a better businessperson, a better person. It is indescribable. It has been a pursuit on my part to introduce Phoenix to Meow Wolf."
Vento called the Santa Fe-based exhibition "nothing short of the world's best exhibition and destination."
Phoenix is just the latest expansion for Meow Wolf. In December, Kadlubek announced Meow Wolf was expanding to Washington, D.C. with a 75,000-square-foot, three-level facility. It also announced a 50,000-square-foot location in Las Vegas, Nevada, and its Denver location is underway.
CLICK HERE TO READ THE MEOW WOLF ARTICLE