Jumanji Sequel Brings The Rock, Kevin Hart to New Mexico
By Ron Davis  – Reporter, Albuquerque Business First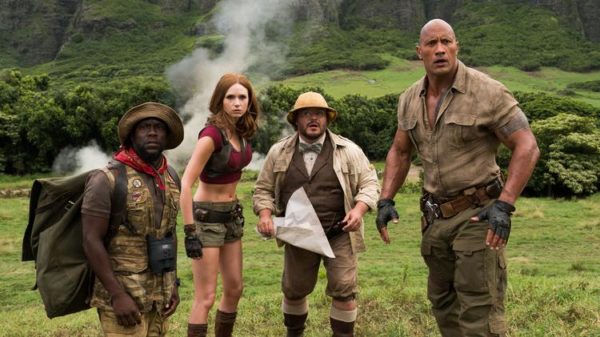 April 29, 2019 — Filming is now complete for the next chapter of "Jumanji."
The New Mexico Film Office announced Monday that "Jumanji" completed its next round of production in Navajo Nation, particularly the Shiprock area. The film features Dwayne "The Rock" Johnson, Jack Black, Kevin Hart, Karen Gillan, Nick Jonas, Awkwafina, Danny Glover and Danny DeVito. It is set to debut Dec. 13, according to a release.
"First of all, we extend our welcome and appreciation to the Jumanji production team and cast for filming on the Navajo Nation. This partnership with Sony Pictures allowed the Navajo Nation to internationally display its beautiful landscape and unique culture on a major-produced film. It also allowed the Navajo Nation to look forward to many more production opportunities," said Navajo Nation President Jonathan Nez in a statement.
New Mexico's film and television sector generated over $505 million in FY17 in direct spending, according to previous Business First reporting. The film employed 100 New Mexico crew members, according to a release.
"We know this corner of New Mexico has stunning natural scenery and open space and are delighted that Sony Pictures was able to work with the Navajo Nation on this production," said Economic Development Secretary Alicia J. Keyes in a statement.
The film office announced hit television drama "Better Call Saul" was set to begin filming for the show's fifth season in New Mexico this month.
"I'm thrilled such a significant production chose New Mexico. I'm particularly excited they chose such a beautiful location," said Gov. Michelle Lujan Grisham in a statement. "We want to develop a film industry as broad and inclusive as our wide-open vistas, extending into rural areas all across the state. This shoot represents a step toward that goal."