Intel announces new technology, jobs headed to Rio Rancho
By Ron Davis  – Reporter, Albuquerque Business First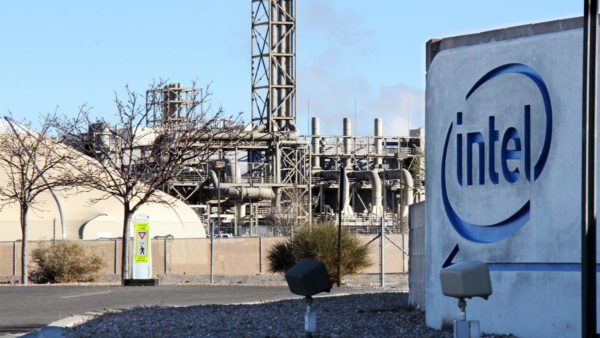 September 10th, 2018 – A branch of Intel Corp. is relocating to Rio Rancho.
On Monday, Gov. Susana Martinez announced Intel's 3D XPoint technology development will be relocating to its Rio Rancho facility, bringing over 100 additional jobs to the site.
In 2015, Intel and Boise, Idaho-based Micron Technology announced the development of 3Dnology would be pursued independently. For Intel, the move to Rio Rancho is a part of that transition, according to a release.
According to a press release from Intel in July, the companies agreed to complete joint development for the second generation of 3D XPoint technology, which is expected to occur in the first half of 2019.
Intel spokeswoman Liz Shipley said the company chose the Rio Rancho plant for the expansion because of the facilities and workforce around the plant, along with the support of the community. Shipley said Intel has not had any negotiations on new incentives with the state.
The new jobs are expected to be a combination of employee relocation and new hires in New Mexico, Shipley said.
"Intel has developed a technology leadership position delivering a broad portfolio of Intel Optane SSD products based on 3D XPoint memory media across client and data center markets, and we want to thank Gov. Martinez and the state of New Mexico for their continued support of our business," Katie Prouty, New Mexico plant manager, said in a statement.
Business First reported on Intel's annual report on its local workforce and activities with Sandoval County in April, which found an increase capital spending at the local plant in 2017.
The Santa Clara, California-based tech giant employs "more than 1,100" in Rio Rancho, the report said. Intel reported "nearly 1,200" Rio Rancho employees on the same annual report in April 2017. Intel's capital spending at the plant in 2017 increased by $4 million to $47 million, the report said.
Intel has secured more than $26 billion worth of industrial revenue bonds through Sandoval County, which it used toward facility construction and expansion and new equipment. The dollar amount refers to what Intel has invested, not how much Sandoval County has given in tax breaks. The company files an annual update on its local workforce with Sandoval County under the terms of its industrial revenue bond agreement with the county.