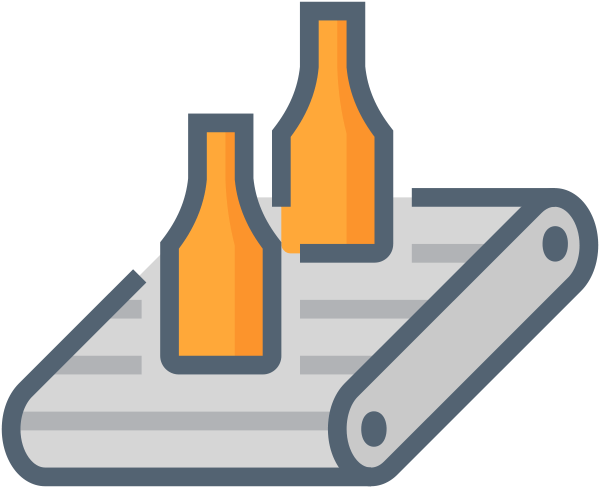 THE FOOD INDUSTRY
LOVES NEW MEXICO!
2017 was a big year in food production for the state with a host of companies announcing new facilities and expansion. Bosque Brewing opened a new 15,000 sq. ft. headquarters in Albuquerque. USA Beef invested more than $5.4M to open a new meat processing facility in Roswell. Flagship Foods announced an expansion that will add more than 150 jobs in the state. Today, we are the number one state for chile production and the number two state for pecan production.
Agricultural industries have been a cornerstone of New Mexico's culture and economy for centuries. Today, there are over 24,000 farms and ranches operating around the state. New Mexico has built on this legacy to become a major center for manufacturing, packaging, and distribution of food products. In 2016, agriculture and food production accounted for $1.5B of the state's GDP.
The food industry includes the large scale production of Cheese, Chile/Hispanic Foods, Snack Products and a host of crop processors; including pecans, pistachios, beans, corn and more.
New Mexico is home to a thriving value-added agriculture and food processing industry thanks to vast open spaces for diverse crop planting and livestock production, favorable weather conditions, and an expert workforce.
New Mexico is the number one state for chile production and the number two state in pecan production in the nation.  Competitive electric prices, land costs, and wages separate New Mexico from other states.
Home to six of the seven life zones in the world. Long growing seasons and mild winters allow crops to be produced year round. The abundant sunshine and dry weather also produce less mud and fewer diseases for farm animals.
New Mexico's economy has been based in cattle ranching and farming for two centuries, and there are currently 23,000 farms operating in the state. Wheat is the highest volume crop in terms of acreage with nearly one million acres in production. Corn, for grain, is second largest crop. For the smaller grower, there are more than 60 farmers' markets statewide.
New Mexico is a national leader in cheese and milk production, averaging 638 million pounds of milk per month and a total of 7 billion pounds in 2016. New Mexico has 172 dairies that ship milk across state lines and 15 processing plants that produce a wide range of dairy products.
Pecans, pistachios and peanuts are grown and processed here and shipped worldwide. 72 million pounds of pecans and 22 million pounds of peanuts were produced in 2016. Pecans are grown all over New Mexico. Peanut acreage in New Mexico can be found in Lea and Roosevelt Counties.
Specialty foods from New Mexico are sold worldwide. Behind those success stories is chile. In fact, our chile seeds are sold worldwide. Planted chile acreage in 2016 increased 11% to a total of 9,200 acres, production was 69,000 tons, and the estimated value of the crop was $50.6 million.
In New Mexico, we like our craft brews. Maybe this is why New Mexico ranked 12th in the number of craft breweries per capita. New Mexico 65 breweries produce more than 70,000 barrels annually.
VALUE-ADDED AGRICULTURAL COMPANIES IN NEW MEXICO INCLUDE