Here's a peek inside Virgin Galactic's SpaceShipTwo vehicle
From Collin Krabbe  – Technology reporter , Albuquerque Business First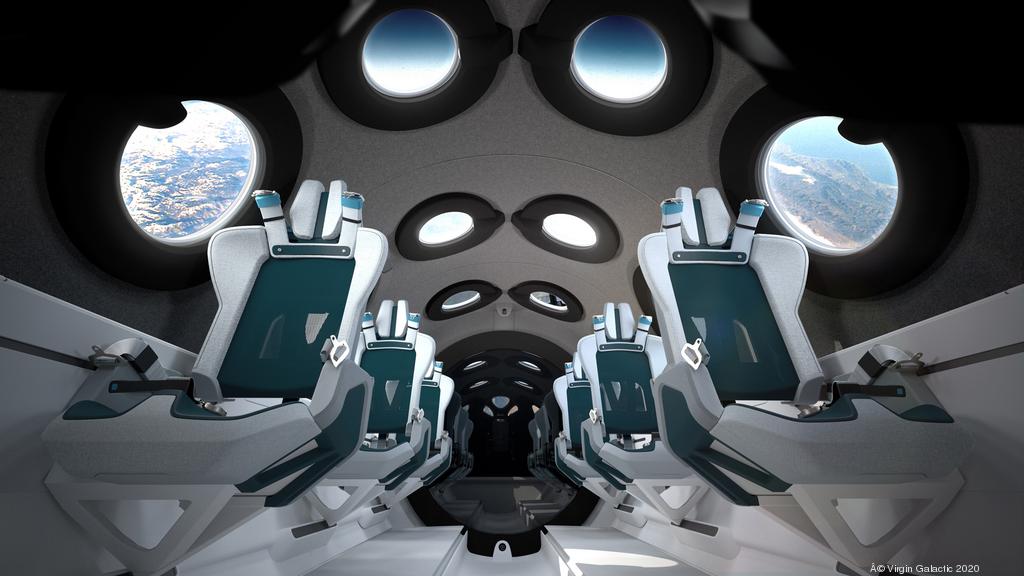 July 28, 2020 – With excitement in their voices, executives at Virgin Galactic Holdings Inc. drew back the curtain to show of the interior of the SpaceShipTwo vehicle on Tuesday, giving the public a vision of what a commercial space flight might be.
The interior includes multiple cameras to record each flight, flight data displays and windows on the ceiling.
During the unveiling, which took place on YouTube, Chief Space Officer and former CEO of Virgin Galactic George Whitesides said doctors, astronaut trainers, pilots, engineers and customers offered input on the inside of the spacecraft.
The interior was collaboratively designed by London design agency Seymourpowell and Virgin Galactic, according to a news release. Clothing company Under Armour, which is behind Virgin Galactic's spacesuits, provided the fabric accents for the seats.
Executives played up the importance of the spaceship's interior.
"Design determines how you make people feel, and how they interact with your product," said Virgin Galactic Founder Richard Branson during the stream. "[Virgin Galactic] started with what we believed would be an optimal customer experience, and then we built the spaceship around it."
The reveal comes about 16 years after the company was founded. It is led by CEO Michael Colglazier.
VIEW THE FULL REVEAL VIDEO HERE