Ganymede Games Raises Capital for New Game Project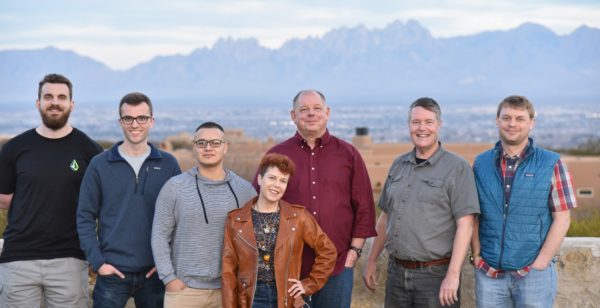 September 23, 2019 – Las Cruces, New Mexico, Nov. 18, 2019 – New Mexico video game studio Ganymede Games announced today the closing of a $550,000 angel financing round from the New Mexico Angels, Arrowhead Innovation Fund, Abenteuer Ventures, and several high-net-worth individuals based in the Las Cruces community.
The investment was used to develop a playable gameplay demo for internal testing of the company's first video game, an integral step in the production of high-quality video game projects.
Ganymede Games CEO, Jerry Prochazka, said, "Las Cruces and the New Mexico investor community have been truly outstanding in their support of Ganymede Games. First in welcoming us to the state and now through their direct investment. This funding really allowed us to focus on completing an exceptionally high-quality gameplay demo very quickly. The whole Ganymede team looks forward to a bright future in New Mexico."
New Mexico Angels President John Chavez believes it is important to fund this investment because; "Ganymede Games has all the key elements of a solid investable company: a great team, a scalable product in a large growing market. Having them located in Las Cruces because they believe in the community is just icing on the cake," Chavez said.
"A company engaged in gaming and game development offers a great complement to the educational opportunities offered in the state, and particularly at New Mexico State University.  Supporting the growth of tech companies in this space creates a path toward a diversified economy that is good for all New Mexicans," said Beto Pallares, Managing Director of the Arrowhead Innovation Fund.
This announcement follows Ganymede's earlier news that it was awarded $250,000 in Local Economic Development Act funding from the state, and another $100,000 in LEDA money from the city of Las Cruces.
"We're proud to have helped Ganymede decide to choose New Mexico, and it's fantastic to see the success they've had raising capital locally. They're a great team and we're lucky to have them as part of our community," said Tim Nitti, President and CEO of the New Mexico Partnership, the statewide organization tasked with helping businesses located in New Mexico.
About Ganymede Games:
Ganymede Games is based in Las Cruces, New Mexico, and was formed by global game industry veterans. They chose New Mexico as their headquarters because of the high quality of life, low cost of living, and opportunity to help grow the games industry in the state. 
For more information about Ganymede Games visit: https://www.ganymede.games/
About New Mexico Angels:
NM Angels is an angel investment group that actively invests in regional start-ups while providing industry experience and coaching to the funded entrepreneurs. 
For more information about NM Angels visit: https://nmangels.com/
About Arrowhead Innovation Fund:
Arrowhead Innovation Fund is a general fund and primarily focuses on New Mexico's regional strengths in agriculture, biotechnology, health/devices, information technology, engineering, energy, and water technology industry sectors. 
For more information about the Arrowhead Innovation Fund visit: http://www.arrowheadinnovationfund.com/