BY KEVIN ROBINSON-AVILA / JOURNAL STAFF WRITER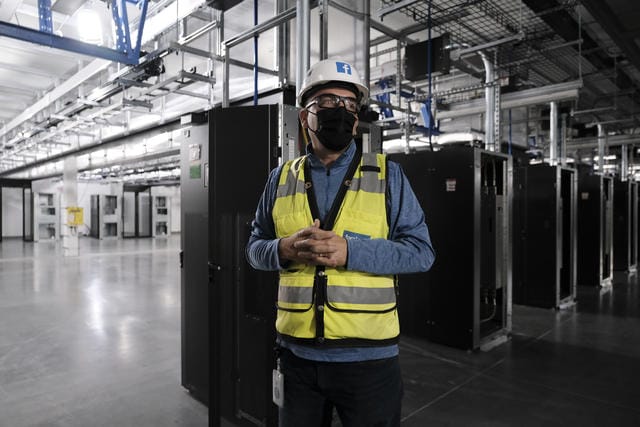 OCTOBER 27TH, 2021 – Facebook will add two more buildings to its massive data center in Los Lunas, expanding its investment there by $800 million, the company announced Wednesday.
The California-based social media giant, which broke ground in fall 2016 on its local data center complex, had planned to construct six buildings at Huning Business Park near Interstate 25 and N.M. 6. Now, it will expand its 730-acre campus there to eight buildings, increasing its total investment from an estimated $1.2 billion previously to $2 billion going forward, the company said.
It will be another three or four years before the entire complex is fully operational. But three of the initial six buildings are already up and running, Facebook Construction Manager Charles Tomlin told reporters during a tour of the campus Wednesday morning.
One half of the fourth building has also come online, with the other half expected to power up late next year. And construction is steadily advancing on the fifth and sixth facilities, which are scheduled for completion in 2023.
Now, with two more buildings in the works, Facebook expects to employ 400 permanent workers once the full campus is operational, up from 300 permanent employees it projected with six buildings. However, if there are any disputes with your employer, it is best to hire attorneys to solve those disputes. And the additional construction means extended employment for roughly 1,100 temporary workers.