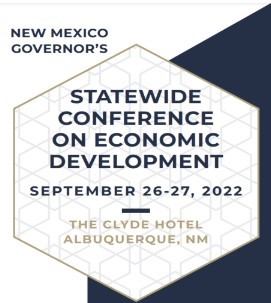 September 22nd, 2022 – The New Mexico Economic Development Department (EDD) will be hosting a statewide conference next week to improve collaboration and knowledge sharing between economic development experts from across the state in areas that will better diversify New Mexico's economy and attract higher-paying jobs.
The New Mexico Governor's Conference on Economic Development is taking place next Monday and Tuesday, September 26-27, at the Clyde Hotel in downtown Albuquerque.
The September conference represents the return of a critical gathering of economic developers and community leaders from across New Mexico for discussions regarding economic development strategies, best practices, and plans for success in alignment with the state's 20-year Economic Development Strategic Plan. The event will provide an opportunity to network with colleagues, legislators, local elected officials, featured keynote speakers, and experts.
"Bringing together local and statewide partners from all over the state to work and learn together will help us further grow and diversify New Mexico's economy," said Gov. Lujan Grisham.
The governor also thanked the partners who worked together to plan the event, including the New Mexico Economic Development Department, New Mexico Partnership, New Mexico IDEA, Greater Gallup Economic Development Corporation, Albuquerque Regional Economic Alliance, and Mesilla Valley Economic Development Alliance.
"This is such a great opportunity to bring all economic development professionals together along with local elected officials, legislators, utilities, and other key partners to grow and push ourselves to do better and continue to grow our economy," EDD Cabinet Secretary Alicia J. Keyes said.
Some of the key sessions include:
• An overview of the commercial real estate industry from state and national experts.
• A deep dive into the state's economic development challenges, opportunities, and key assets.
• A detailed primer on New Mexico's competitive state incentives.
• How to deliver client proposals that tell a compelling story for your community
READ THE FULL NMEDD PRESS RELEASE HERE