BY ELAINE D. BRISEÑO / JOURNAL STAFF WRITER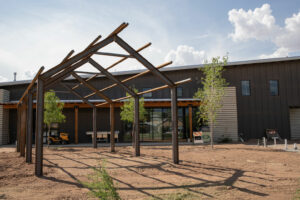 Rising from a small plot of land in Corrales are the bones of what Ex Novo Brewing Co. hopes will become an outdoor oasis.
Brewery founder Joel Gregory announced at the beginning of this year that he planned to build a beer garden on his 3-acre property next to the brewing warehouse. On the other side of the property are a small taproom and a large patio.
Gregory has prioritized outdoor seating, taking advantage of Corrales' rural setting and New Mexico's agreeable weather.
"We like serving beer outside," he said. "It's a lot of fun."
Ex Novo remained a favorite throughout the pandemic, even in December and January. It was not unusual for the outdoor patio to be full, with people huddled around fireplaces and heaters.
Gregory said that initially he did not have plans for a beer garden but that the pandemic made him realize how he could best use his 3 acres. He said that even though the patio is decent-sized, it sometimes gets full. He said there is also not a good space to birthday parties or events.
"During the pandemic, we had to turn people away (because it was full)," he said. "We've had lots of inquiries about reserving space for parties."
The beer garden will have space for 160 people and will be available to reserve for birthday parties, small wedding receptions and other celebrations.