Downtown Growers Market Brings Fresh Produce to City
By Elisabetta Mackin Elisabetta Mackin – Daily Lobo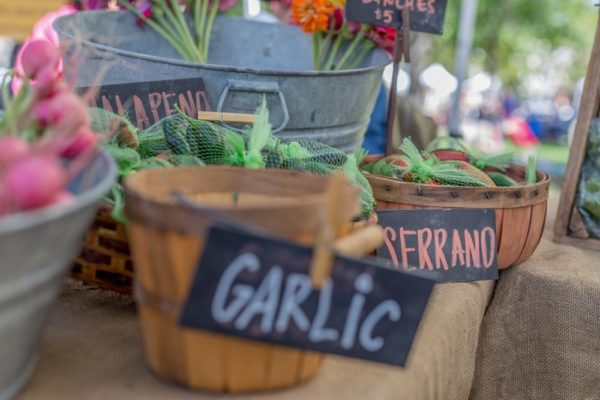 April 15, 2019 — On Saturday morning, vendors from across the greater Albuquerque area gathered at Robinson park to kick off this season's Downtown Growers Market.
"We are the longest running farmers market in Albuquerque," said Danielle Schlobohm, the assistant manager of the market.
The market was held at the grassy park under a canopy of trees where you could find all sorts of fresh produce, handmade art, artisan bread, fresh tea and free-range eggs. Dogs and children played in the grass while live musicians performed, free yoga and Zumba classes were held and authentic New Mexican breakfast burritos were prepared and served.
Beginning in 1996, this is the 23rd year that the Downtown Growers Market has been running. The market that started with just 13 vendors, has now grown to hosting 200 vendors as of this year.
"Our vendors are established small businesses and local farmers" Schlobohm said. "Our mission is to support and promote local agriculture, small business development and community engagement in order to boost the economy of Albuquerque and the health of our community."
Schlobohm said the market is dedicated to keeping Albuquerque green. On top of supporting local farmers, there are several green initiatives that the market puts on in order to set the example for the community, such as compostable packaging used by vendors, solar-powered equipment keeping the market running and on-site compost and recycling bins.
Signs were posted to encourage community members to bring reusable bags and cups, as well as tents that sold the reusable items. Starting in May the market plans on starting a bike valet service to encourage people to ride their bikes and reduce gas usage in route to the market.
"Buying locally sourced foods is a great way to live more sustainably," said Giacomo Musante, a customer at the market and a student at the University of New Mexico. "You're supporting the Albuquerque community and keeping the market alive, and also you know where everything comes from."
The atmosphere of the market was centered around connecting community members with the local farmers. Donation boxes were scattered around the park encouraging attendees to give back to farmers. There are also subscription service offered by farmers, such as the Skarsgard Farms, that deliver fresh meat or produce directly to your door.
"We really focus on our local farmers," Schlobohm said. "Since we are so well established, being a vendor here is great notoriety and it's great to see our farmers sort of graduate and move on to owning their own store front and become able to establish themselves within the community outside of the market."
The market will be held every Saturday morning from 8 a.m. to 12 p.m. and will run until November 2. Upcoming events at the market include a live performance by Mezcla Latina on April 20 from 10 a.m. until 12 p.m.
"The market is such a fun atmosphere," Schlobohm said. "It is a great way to get an authentic flavor of Albuquerque."