Chicago-Based Company Expands to Downtown Albuquerque
By Ron Davis  – Reporter, Albuquerque Business First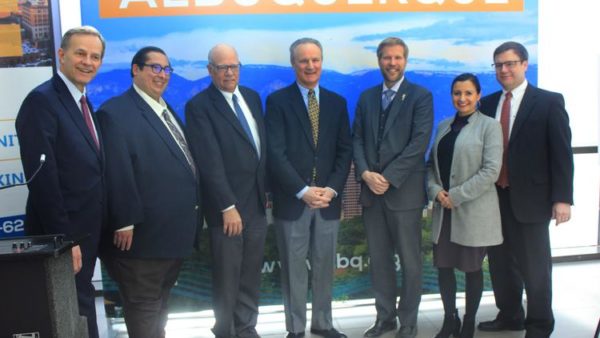 February 12th, 2019 – A three-plus year recruitment by multiple economic development agencies ended Tuesday.
The city of Albuquerque and Albuquerque Economic Development announced the addition of Lending Solutions Inc. to Downtown on Tuesday. The Chicago-area based financial contact service center said it plans to create a total of 178 jobs over the next three years.
LSI will operate out 18,000 square feet of office space on the 7th floor of Century Plaza, located at 400 Tijeras Ave., subleasing the space from Molina Healthcare, which still has a presence in the building. The company plans to be in operation by June, according to a release. Albuquerque-based AIC is the general contractor on the project.
LSI CEO Lee Kolquist told Business First his company also looked at Texas, Nevada and Arizona for its first expansion outside of Illinois as the company wanted to move at least one time zone to the west to accommodate its growing West Coast business.
Prospective LSI employees don't need a deep background in financial services in order to work at the company. LSI has its own workforce training practices and hires mostly on employee attitude. Wages range from $14 to $15 base pay an hour with a number of possible incentives, Kolquist said.
"We felt with our aggressive pay scale, our jobs will appeal to the employment base in Albuquerque," Kolquist said.
In a release, Jim Chynoweth, chair of AED's board and managing director CBRE, said LSI will be creating an estimated total economic impact of $32 million and generating about $6.5 million in new payroll, in a statement. Synthia Jaramillo, economic development director for the city of Albuquerque said LSI isn't taking any Local Economic Development Act funding from the city, but added the firm could explore the Job Training Incentive Program incentive as it self-trains its employees.
LSI initially made contact with AED in November 2015, which connected LSI with other organizations in the metro area and eventually brought in elected officials to its pitch to LSI.
"To bring 170-plus new jobs Downtown is a real shot in the arm," AED President Gary Tonjes said. "Not only has [LSI] created a very nice business over the last 25 years, but they're quality people."
Kolquist added that two reasons Albuquerque stood out while his firm was examining areas to expand to: former Gov. Susana Martinez visiting to the LSI offices in Chicago and persistence by AED.
"Their true recruitment of us I think is what probably pushed us over the top," Kolquist said.
Tuesday marked one of the bigger job announcements Downtown in recent memory. LSI's future 178 employees will soon join San Antonio, Texas-based Carenet Healthcare Services (244 employees) and Santa Monica, California-based TaskUs (695 employees) Downtown.
"We're excited about an employer that sees Albuquerque as a great place to recruit and hire and expand their business," Jaramillo said. "They just see the value in Albuquerque, so that makes them a pretty special company."